Hello everyone,
My warriors are once again set aside until I get the bug again then I will add some more units. However I have a half built and painted vampire army sat in my cabinet.
Time to finish it!
So this blog will follow the progress of this endevour - I am currently using a lot of old models rebased and have no access to ghouls so since my experiments with dip (tutorial on the saw-c) I decided to sit down and finish building some 50 ghouls, I think I need 10 more to be safe with raisables but for the time being I will finish these.
Now what I plan to do is dip them and then come back and highlight and touch up the starting ghouls.
Here is a test dip ghoul - No highlight done after the dip and base obviously not finished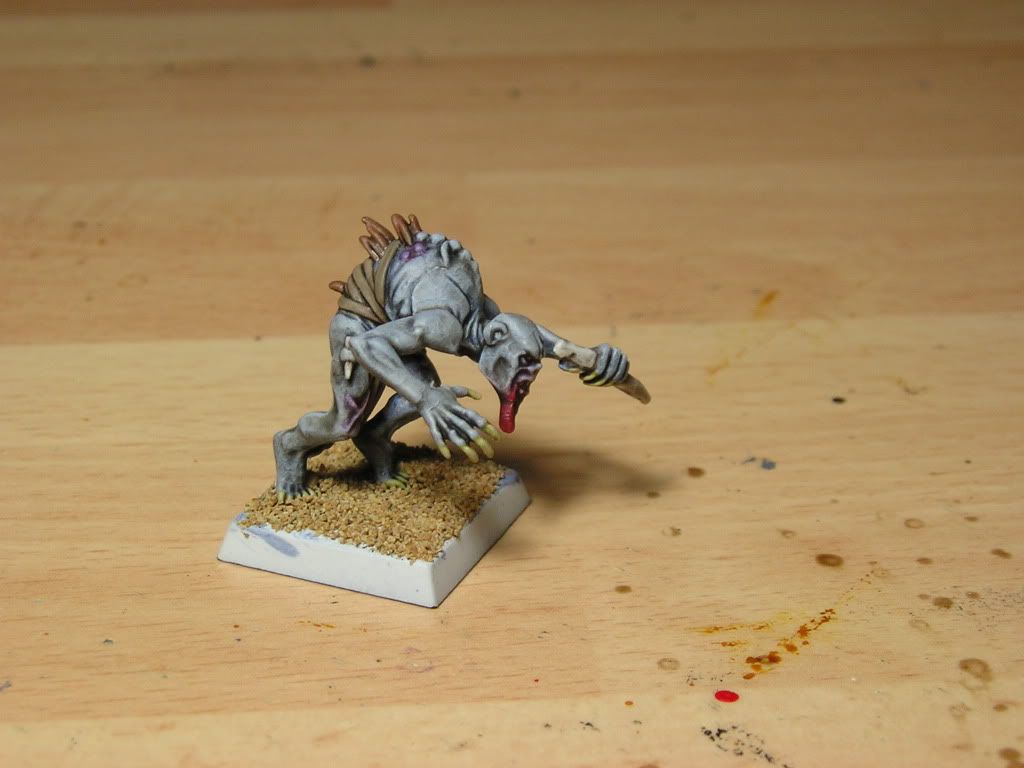 So i had cleaned up the bodies and legs and stuck them together - after hunting about for the sprues (relief that I found them) I have cleaned the arms up (doing 100 ghoul arms in one go is not recomended) I have stuck the ghouls togther except the heads, I Decided to base the ghouls so I got to work, now to make the models go further and the units vastly more interesting I have also made scenic graveyard fillers and stones on the ghouls bases, I decided to include some spooky tree's as I have used these on other units in the army.
Anyway here is a pic of the ghouls without there heads (pic will be posted tonight)
So what else do I need to do, well a couple projects
Ghouls - Paint em and do a new movement tray
Wight king on foot with BSB and GW (Probs converting him heavily from a chaos chosen (might be a bit big for it) and greenstuff - Failing that I will dig through my old minis for full plate armoured guys - I may use plastic skele legs and grave guard bits and sculpt the majority of this guy - would be an interesting project for me as I tend to not do any heavy sculpting
Vampire on Horse - lance (not decided how I am going to do this guy yet)
Vampire lord on horse (mannfred model - not converting this)
Finish the fell bats (Not a lot to say other than get them to standard - I may add torches to the ruins and do some OSL and make the bases a lot more interesting as they are a bit dull currently and make skirmish display trays - magnetised of course!)
Wraiths - I like my empire themed wraiths (great as they took 2 hours start to finish including drying times!) but I really want to do some scratch built ones, banshee is annoying me I may do something quirky like I did with my 6th Ed army and do the banshee the spirit of an empire wizard (I have a wizard kit I could use)
Zombies - Love my 6th ed ones but could do with adding some more to the unit and making a 20 x 1 movement tray...

I also want to use some of the walls and fences to make the unit look more dynamic (perhaps climbing over the wall and acosting some handgunners on the other side (prolly need to be 2 deep by 4 wide
Dire Wolves - Got 2 units built and sprayed need to paint them and get the trays built
5 Blood Knights - Just options for diff tournies
Vargulf - Got one ready to be painted
Finish by Vamp bsb - get his banner done and painted, jazz up the base and get some OSL in (glowing sword maybe)
Grave guard - Banner - design and paint this
then the big bit
10 fully converted black knights - I intend to sculpt armour on skeletal steeds and use the grave guard plastics mixed with skeleton plastics for the riders, using TK cav legs and scultping armour and cloth on the legs
Massive project not sure when I will get round to it
So...
Quite a lot to do and then id like to paint a Wight king on horse back, a vamp bsb on horse back and my necromancerson foot and a corpse cart.
I also have 60 skeleton warriors I may dip for alternative core units
this should tide me over until the new TK book come May.
I will be posting up here progress of the army and how I have gone about doing some of the stages on minis so this should turn into a monster blog
Disclaimer - I may not do all of the above by May, lets see how we go - As always questions and comments welcome